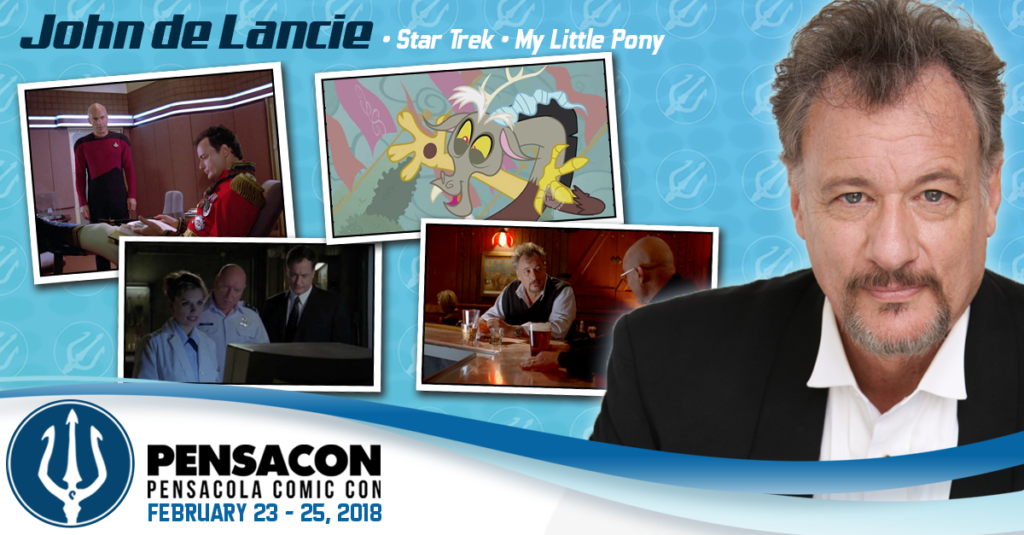 Cultivating a career as both an acclaimed stage, screen and film actor as well as an accomplished voice over artist, John de Lancie is perhaps best known to Star Trek fans as the mysterious and godlike Q, having appeared in episodes across the series Star Trek: The Next Generation, Star Trek: Deep Space Nine, and Star Trek: Voyager.
Throughout his career, de Lancie has also made appearances on such hit dramas as Breaking Bad, The West Wing, Charmed, Andromeda, The Unit, Law & Order: LA, The Mentalist, CSI: Crime Scene Investigation, and the Doctor Who spin-off Torchwood. His film credits includes roles in the Curtis Hanson-directed thriller The Hand That Rocks the Cradle, Terry Gilliam's The Fisher King, and the Adam Sandler starrer Reign Over Me. De Lancie's acting chops have also been on display as a voice over artist, most notably in the role of the character Discord on the very popular, My Little Pony: Friendship is Magic. De Lancie has also voiced characters in the long running Assassin's Creed franchise, with roles in Assassin's Creed: Revelations and Assassin's Creed III.
In 2012, de Lancie produced the documentary Bronies: The Extremely Unexpected Adult Fans of My Little Pony. Funded entirely through a Kickstarter campaign, the project became the second highest project on the crowd sourcing platform at the time of its campaign.